The year 2012 started with a bang with parties being thrown everywhere throughout the country. One such party is by none other than Hennessy V.S.O.P when they launched their limited edition glow in the dark bottle dubbed the Privilege Collection NYX.
As you guys have known, the party was held at a secret location and we were only given gloves to wear. We were asked to collect them at the Hennessy road show at South Court Mid Valley.
At the roadshow, Hennessy are offering the public to get their hands on the limited edition bottle for a promotional price.
The bottle glows in the dark so it is definitely unique and something to look out for. After we registered, we had to wear the white gloves that glows in the dark when the UV lights hit on it. To get to the secret venue, we need to get spotted by the Hennessy Girls where they will escort us to the venue. Its none other than Vertigo!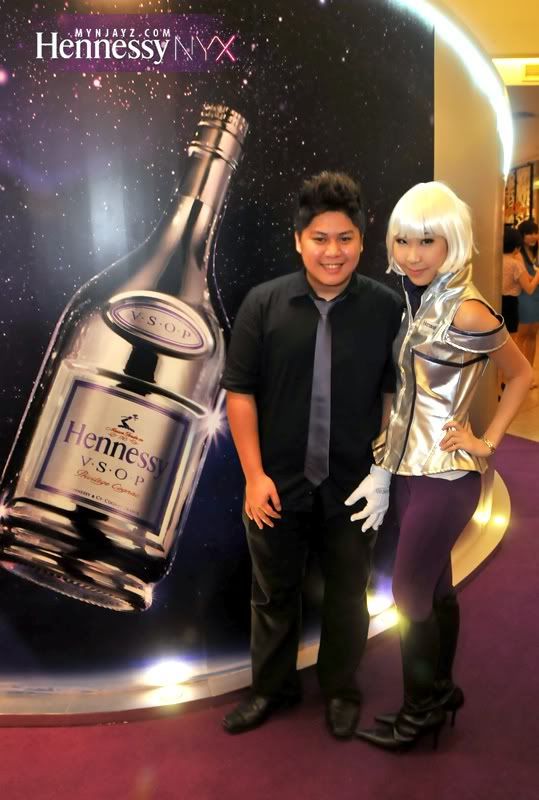 Jason with the white gloves.
So yea, in the event itself, we were even given a glow in the dark tattoo.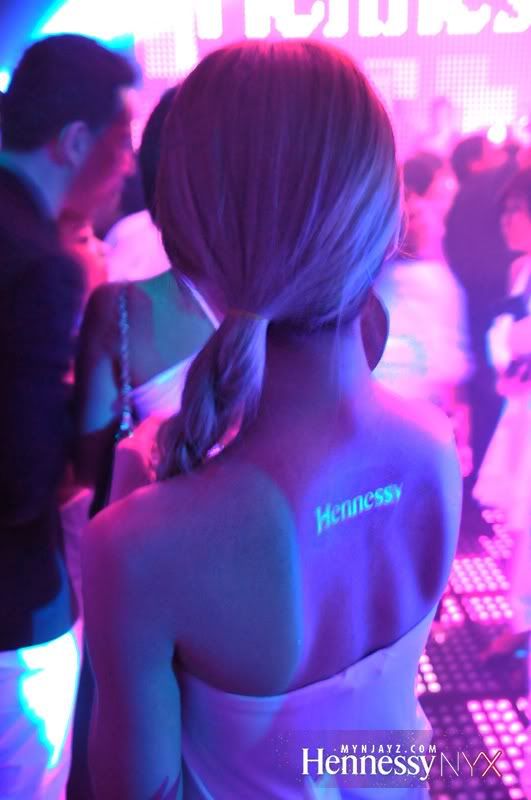 Guest were allowed to feast ourselves with free flow of Hennessy till 11pm. DJ Blink took the set and everyone partied all night long. It was an awesome night especially with all the glow in the dark stuff such as the gloves, bottles and tattoos.
With the launching of the glow in the dark bottle, I now need an excuse to dig my piggybank to grab hold of the limited edition bottle. After all, how many such bottles exist in the world? And specially from the world renown cognac brand, Hennessy.
---
That's right, the drink that is synonym with sophisticated drinking lifestyle is back with its brand new collection of Hennessy Privilege NYX Collector bottle this 5th January. What a way for Hennessy to start the New Year.
Hennessy is well known in Malaysia as throng of clubbers take Hennessy as their number one choice to get down in Clubs. Thanks to Hennessy's flagship event, the Hennessy Artistry, Hennessy had made their name a household name among clubbers. We are greeted with tons and tons of artiste performing while sipping to the various blends that was offered.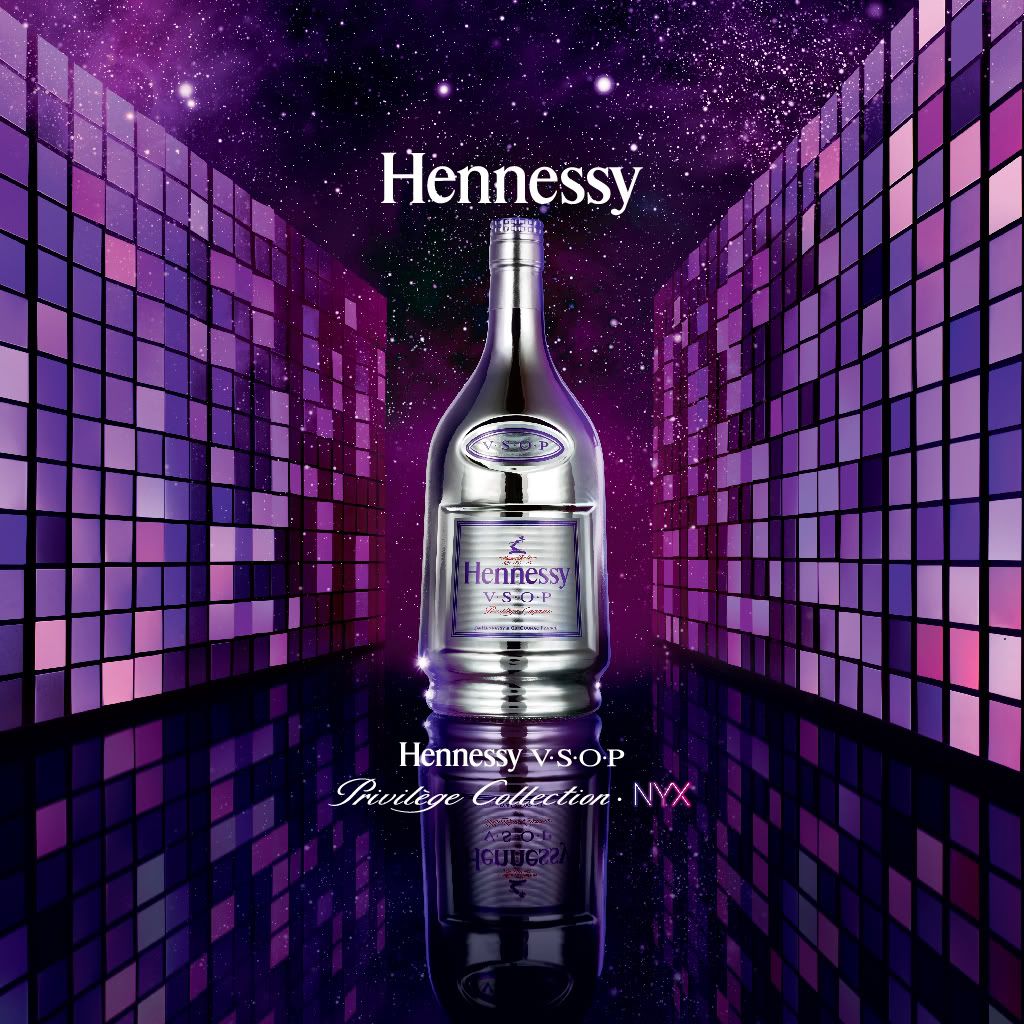 So what does Hennessy Priviledge NYX Collection bottle represents? For starters, NyX means goddess of night and dreams. It tries to send out a strong message that we represents the night life and we are here to dominate the place all night long.  The Hennessy Privilege NYX Collector bottle shows the symbol of Roundness & Sophistication. With its Smooth, sophisticated and distinct design, this brand new bottle definitely evokes the imagination and conjures the endless possibilities when exploring the unknown or crafting the perfect night out!
So when and where will it be held? Now now, here's the thing. The venue is a secret as it is a invite only party. But you may still attend as Hennessy are kind enough to give out passes through a contest in FB.
Date: 5th January 2012
Time: 8.30 pm
Venue: Secret Location in Mid Valley Megamall (By-Invitation only)
In conjunction of this Hennessy V.S.O.P Privilege Collection NYX Launch, they are giving away the launch party exclusive passes for Hennessy Malaysia FB fans too! Head to Hennessy Malaysia Facebook Page to join the contest and even stand a chance to win the limited edition Hennessy V.S.O.P NyX 70CL Bottle! You woulden't wanna miss this opportunity to attend this BRAND NEW Hennessy V.S.O.P Privilege Collection NYX Launch.
How to win the exclusive passes to the launch party? Follow the steps below:
1. Like their fanpage in facebook.
2. Click on the tab "Hennessy NYX" on the left to join the contest!
3. All you need to do is to share the news with friends and ask them to join the 'Illuminate the Night' contest on Hennessy Malaysia FB page as well.
PS: Also, there will be a Hennessy V.S.O.P NYX Concept Space 'Roadshow' from 2nd – 10th January 2012 happening at East Atrium Entrance, Mid Valley Megamall (In front of Coffee Bean / MPH). Do drop by the roadshow to find out more info about the brand new Hennessy V.S.O.P NYX!
Watch the video below to get to know more about Hennessy V.S.O.P NYX! – introducing the new exceptional collector bottle:
For more details, feel free to check out Hennessy Malaysia facebook page:http://www.facebook.com/HennessyMalaysia
Each bottle is numbered and that means its a limited edition bottle! Limited bottles are available. So, get it now to add in to your Hennessy Collections. I have the GOLD "Helios" Hennessy bottle. I would surely want to get this Hennessy silver coloured, neon purple lining glow in the dark bottle.
Cheers all! Happy New Hennessy Year 2012.
---
Those who followed me on twitter would know that I am having my
examinations right now and is supperrrrr busy. LOL. Despite the fact that im studying, I manage to spent some time flashing a beta version of Google Android's latest OS, Ice Cream Sandwich hehhee (:
Ok la, to be honest, the reason I flashed this OS because MIUI ROM has been acting up lately and the frequent hangs I get especially when I wake up in the morning with tons of messages and notifications annoys me. So….. yea.
Ice Cream Sandwich will never be available officially on the Samsung Galaxy S BUT the huge community support on Xda-Developers forum enabled Galaxy S to be one of the very few phone to have a taste on this yummylicious dessert! The link is here
So here's some first impression on this sleek new OS.
The UI is polished and fast due to its new hardware accelerated feature that allows the graphic processor to accelerate the user interface. By doing so, everything is super smooth babeh. For the first time, scrolling contacts on an Android phone is as smooth as iOS.
The camera is also superbly quick. The zero shutter lag promised on Galaxy Nexus seems to be available on Galaxy S too! I mean, seriously, it is on par with IPhone 4s. (Even beats it to a certain extent)
I also notice that my 3G and WIFI signal seems to increased as compared to the MIUI ROM. It might be phone specific (cuz well yea, Galaxy S has lotsa problem) but it is definitely a plus point. I am able to use WIFI in my room without problem while using the MIUI ROM, it struggles to even get a decent connection
Another thing to note GPS, has also improved in the Ice Cream Sandwich. I use to struggle to even get a proper lock on the satellite but ICS allows the troubled Galaxy S to have lock in 30sec max!
The RAM management in ICS is nothing like I have seen before. Ive opened tons and tons of apps, but my memory remained at 80MB and above. We have this to thank to the new process manager. It will always free up RAM for new processes to take place and leaving some extra RAM to ensure smooth operation.
Another notable feature is the USB Storage Mode. When I hook up my phone to the laptop and mount the memory to it, I can still access the memory card from the phone and at the computer at the same time. That's a nifty feature that deserves a mentioned. (:
Oh, this is my favorite, the Recent App feature. The recent app allows you to switch between application quickly and doubled as a task manager, when swiped left or right, will close selected application. Now, there have been doubts and debates on this task manager and many said that it IS NOT a task manager. It is. I have a video to prove. (ill update this space with the video soon) (:
One more feature that I love the most is the ability to have folders on application docks. You can just drag and drop any apps on the dock and it will be grouped into folders.
Web browsing seems to be quicker than other OS too. One thing to note, my Galaxy S is a single core processor thus it is STILL slow even with ICS.
Last but not least, the Auto Correct on ICS is as BITCHY as iOS. haha. Undeniably. (: It always DYAC (Damn You Auto Correct) for me. ICS calls this 'Improved Spell Checking" haha. I called it DYAC!
Oh yea, I forgot to mention the most hyped about feature, Face Unlock or in Windows term Face Recognition. It sucks. The algorithm used to detect my face is not mature enough. Even if I move my face a little, it fails to recognize. Oh wells.
So here are the few features that deserves to be pointed out. It's just a quick glance. I will have a better look at it after my exam and update this space with more notable features of ICS. This OS definitely live up to its hype unlike the announcement of iOS 5.
p.s: For those of you who's been wondering, where are the software home,back and recent app button on the screen, well Galaxy S has hardware buttons, so the developers don't see a reason to include that in the Galaxy S version, which is a good call. At least, we will have more usable real estate.
---